Astronomical observation in the Canary Islands.
Cloudless skies
The southernmost parts of the Canary Islands are excellent places for stargazing, as they benefit from cloudless skies most of the year.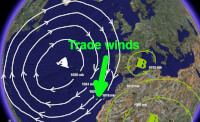 The trade winds, which are humid winds that come from the north, blow almost all year round in the Islands, especially during the summer.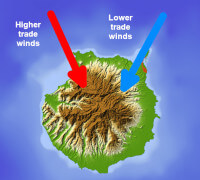 The lower trade winds are fresh and humid. They blow from North-East.
The higher trade winds are warm and dry. They blow from North-West, at more than 1500m altitude.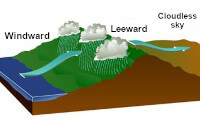 When the wind collides with the high relief of the main islands, the humid air ascends and its temperature and pressure drop, which causes it to condense. For this reason, in the summer, the north of the main Canary Islands is often overcast, while the south remains cloudless
Low light pollution
A Canarian law applies to the island of La Palma aiming to protect the sky from light pollution. On other islands, some efforts are being done in order to minimize it. Fortunately, the islands are surrounded by huge extensions of water with zero light pollution.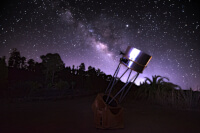 For this reason, except near metropolitan areas, the Canary Islands' skies have relatively low light pollution and the Milky Way can be easily observed.
Dusty haze from the Sahara Desert
When the wind blows from the East for a day or two, the atmosphere in the Canary Islands becomes hazy. This is actually due to a very fine sand coming from the Sahara Desert, the "calima", as the locals call it.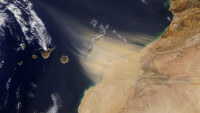 Even though it is not good for astronomical observation, local astronomers have realized that for some reason the atmosphere is likely to be extremely stable when there is an episode of "calima". The conditions for planetary observation can then be absolutely unrivaled.
Starlight recognition
The UNESCO has certified most of the Canary Islands as a Starlight Destination through the Starlight Foundation. This certification recognizes their commitment to astrotourism and consequently to protecting their night skies:
La Palma island: Starlight Reserve and Destination since April, 2012.
Tenerife island: Starlight Reserve and Destination since October 2013.
Fuerteventura island: Starlight Reserve since March 2015.
Gran Canaria island: Starlight Destination since December 2017.